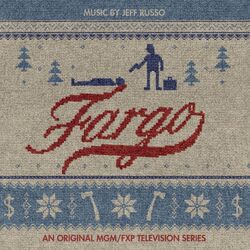 The score from the FX tv series "Fargo", featuring score by Jeff Russo was released on June 27, 2014 by Sony Masterworks.
Track List
Bemidji, MN (Fargo Series Main Theme)
The Long Road Home (Paint Cans)
Molly Looks for Lester
Murder
The Deer
The North
Malvo's Theme
Wrench and Numbers
Stavros' Prayers
Murderous Tundra
Dullard
Fish Head
Lester Running
Bad Idea
Homecoming
Lester as Malvo
Gus Part 2
Malvo Reinvents
The Parable (Gus' Theme)
Poor Demitri
Trading Places
Malvo Retreats
Malvo (Eyes Wide)
Gus and Molly
Malvo's Briefcase
Thin Ice
Bemidji, MN (Reprise)
Highway Snow (Fargo Series End Credits)
Ad blocker interference detected!
Wikia is a free-to-use site that makes money from advertising. We have a modified experience for viewers using ad blockers

Wikia is not accessible if you've made further modifications. Remove the custom ad blocker rule(s) and the page will load as expected.