Background characters are characters shown in the Fargo television series that are in the background. They are generally not named or seen, and serve no purpose to the story and do not have enough information for their own page.
Expecting couple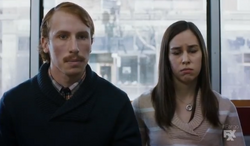 The expecting couple is seen in The Crocodile's Dilemma visiting Bo Munk Insurance Shop. They are expecting a child in the near future, and they want to get a life insurance policy. They end up getting a poor sales pitch from Lester. Terrified, they leave.
A year later, as shown in Morton's Fork, the husband is seen working at a car dealership visited by Lorne Malvo.  Lorne settles on one of the cars and convinces the husband to join him on a test drive.  Lorne quickly kidnaps the husband, and forcibly enlists him in a scheme to kill Lester, who is being taken home from Bemidji's police station by FBI agents Pepper and Budge.  Malvo tails Lester home, then ties the husband's hands to the steering wheel.  After returning Lester to his home, Pepper and Budge notice Malvo's car slowly approach.  Both agents focus on the driver - the young husband - and don't notice Malvo emerge from the woods.  Malvo murders both agents, but the young Husband's fate is never shown.
The husband, known as The Young Man, is played by Andrew Neil McKenzie.
The mother is played by Amanda Guenther.
Hotel worker
The hotel worker is a teen seen in The Crocodile's Dilemma who works at Leroy's Motor Inn. He is seen as Lorne enters the main lobby, where he is being ridiculed by the hotel owner over not replacing the bed sheets properly. He is then sent outside to shovel the parking lot. On the way to his room, Lorne stops to talk to the boy, telling him the last time someone talked to him like that, he urinated the guy's gas tank and caused the car to stop working properly. He decides to do this, and once Lorne is in his room, he calls the owner and reports him. Lorne watches as the boy panics upon being caught, and trips on his shovel trying to run away.
He is played by Sam Duke.
Maid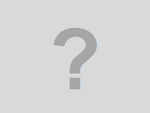 The Hess family maid is seen in The Crocodile's Dilemma. When Lorne calls the house posing as Sam's attorney, she answers the phone and gives it to Mickey, saying it's for him.
She is played by Lydia Lau.